Throughout the World Cup, we at 32 Flags will be giving you a complete recap of the action at the end of the day in our World Cup Roundup.  Not only will we run down the biggest winners and losers, but the highlights and most talked about moments of each day and a look ahead to tomorrow.  
1) Biggest Winner: Costa Rica
Costa Rica was the afterthought in Group D.  The doormat.  The team that was doing little more than making up the numbers in the first ever group comprised of three former World Cup champions.  Costa Rica was "that other team."  While the other three teams had 25/1 odds to win the World Cup before the tournament, Costa Rica was at 1000/1.
How many people are wishing they took a flier on that now?
Costa Rica followed up their 3-1 win over Uruguay with an incredible 1-0 win over Italy, qualifying for the knockout round for the second time in their history.  And the most encouraging thing is the way Costa Rica is playing.  They've truly looked like the best team in Group D.  It's not like Costa Rica is winning games by putting 11 men behind the ball and scraping through with luck on their side.  If anything, Costa Rica deserved more against Italy including an obvious penalty not given at the end of the first half.  They've been the surprise of the tournament, a joy to watch, and the sky is the limit for Los Ticos at the moment.
2) Standout Performer – Enner Valencia
For the second day in a row, a South American striker carried his team to victory by scoring both his team's goals in a 2-1 victory.  Enner Valencia isn't going to be confused with Luis Suarez anytime soon, but the Pachuca striker has been one of the key men of the World Cup thus far with his three goals.  Thanks to Valencia's heroics against Honduras, Ecuador has a chance to advance, although they still face an uphill climb most likely needing a result against France.  Valencia was the leading scorer in this year's Clausara and one wonders how long it is before one of the big European clubs comes calling.
3) Biggest Loser – England. Yes, again.
England is our biggest loser for the second day in a row!  Congrats!  What an honor.  Let's pay tribute sad, dejected English fans for a moment while listening to God Save The Queen.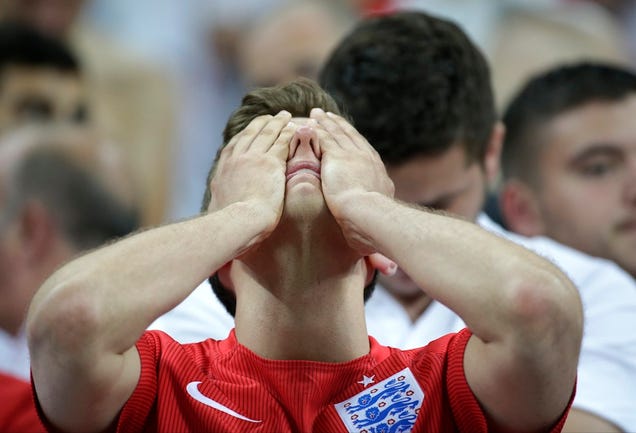 There, that's better.  Why is England our biggest loser?  Well, they were officially eliminated from the 2014 World Cup thanks to Costa Rica's victory over Italy.  Second, they committed their future to Roy Hodgson through the next World Cup cycle.  If there's anything that will ensure England stay stuck in the mud internationally, it's staying with the status quo.  England have too many dynamic, young attackers to be reigned in by Roy Hodgson's more conservative style.  In four years time it'll feel like Groundhog Day for English fans once again.
It could be worse though, England fans – at least you're not from Cleveland!
4) Best Tweet 
Beautiful plumage. pic.twitter.com/YiatGfOQ58

— SB Nation GIF (@SBNationGIF) June 20, 2014
5) Biggest Surprise – The French Renaissance
Four years ago in South Africa, France were an embarrassment on and off the pitch.  2014 has presented a complete 180 for the French as they've been one of the most impressive teams in Brazil thus far.  Granted, Group E isn't going to be confused with the Group of Death anytime soon, but 8 goals in 2 games is a real statement of intent to the field.
France is in a quirky spot.  They weren't really mentioned with the pre-tournament favorites, nor were they labeled a dark horse contender.  France was just kinda… there.  With their opening two performances, everyone is taking notice.  Even Olivier Giroud is scoring goals!  That's how en fuego the French are at the moment.
6) Worst Moment – The miss of the tournament
It could have been worse for Switzerland as first Karim Benzema missed a penalty and then Yohan Cabaye followed it up with a clanger.  Staring at a wide open goal off the rebounded save, Cabaye somehow hit the post for the miss of the tourney so far…
How did cabaye miss the rebound????? http://t.co/pJTcOnjP3n

— andy watt (@awatt1985) June 20, 2014
7) Best Goal – Mathieu Valbuena
Thankfully for the French, Cabaye's gaffe was well overshadowed on a day when they were brilliant on the attack.  None was better than this supreme counter from one end of the pitch to the other, finished off by Mathieu Valbuena…
8) Extra Time – No lead is safe
The most incredible stat of this year's World Cup is this – there have already been 8 comebacks in the 26 games thus far.  That's double than there were in the entire 2010 tournament!  Ecuador's 2-1 victory over Honduras was just the latest come from behind victory on Saturday.  Combine that stat with the fact that scoring is at its highest rate since the 1958 World Cup, and the Cinderella stories like Costa Rica, and it's a recipe to create the most exciting tournament we've seen in decades.
Saturday Preview:
Group F: Argentina vs Iran (11:30 AM, ESPN), Belo Horizonte
Iran was resolute in defending against Nigeria, who really lacked the quality to break down a side committed to being solid at the back.  Argentina ain't Nigeria.  This game could present the most lopsided scoreline of the tournament.  Maybe Lionel Messi can pad those World Cup stats a bit.
Group G: Germany vs Ghana (2:30 PM, ESPN), Fortaleza
This Group of Death encounter carries supreme intrigue.  Ghana dominated the USA for a large part of their opening game, even though they came out with no points to show for it.  They will be desperate to keep their World Cup hopes alive against Germany.  The German machine once again showed off their trademark ruthless efficiency against Portugal (does anyone else think of the Spurs when they watch Germany?) and will look to do the same against the African side.  It should be a great contest.
Group F: Nigeria vs Bosnia-Herzegovina (5:30 PM, ESPN), Cuiaba
In all likelihood, this game will decide the second team to emerge from Group F.  The Bosnians certainly looked more impressive in their opening game even though they lost to Argentina and sit behind Nigeria in the table.  While B-H gave Argentina a good contest, Nigeria's inability to break down Iran was shockingly bad at times.  In fact, it could be a great benefit to them that Bosnia will come to play and not sit back and defend like Iran.  Don't sleep on the Super Eagles in this one as they'll be the more desperate side.